Business Networking Breakfast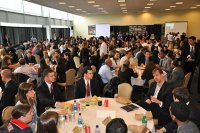 Wednesday, September 5th, 7:00 AM to 9:00 AM
Sponsor: Money Mailer of Agoura, Calabasas & Woodland Hills~
Marie & Brian White
We are a locally owned marketing and advertising franchise proud to serve businesses who want to reach upscale consumers with shared mail and solo targeted direct mail campaigns. Brian & Marie White have owned their company since 1992.
Woodland Hills Country ClubAddress: 21150 Dumetz RoadRSVP REQUIRED by noon on Tuesday.Walk-Ins Welcome, Add $10.
No Jeans please at Breakfast Venue.
(818) 347-4737
Members $20 One Time Trial Guest $20.
There will be assigned seating.WHY SHOULD I ATTEND THE BREAKFAST?
*You meet 150 business professionals vs. cold calling or knocking on doors and just hoping the phone rings.
*Your fellow member becomes your extended sales team – get to know them!
*Receiving a testimony from a member who has used your business is a commercial of credibility in front of your new customers
*You can follow up with your Hot Sheet
*Your promotional products can be displayed on our member informational table
*You have a chance to win member give~aways AND a FREE 2 minute commercial about your business!
**RSVP by Noon on Tuesday prior to our General Events to avoid $10 Walk-In charge.
An accurate "head count" ensures enough food & great service! Thank you.