HAPPY NEW YEAR!!!
Business Networking Breakfast

Sponsor:


American Cancer Society

*Notice Date Change*
Wednesday, January 9th, 7:00 AM to 9:00 AM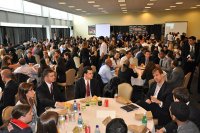 Sponsor:
American Cancer Society~Daniela Barragan
Relay For Life is the American Cancer Society's signature event. The 24 hour event celebrates cancer survivors, and unites the community to raise cancer awareness and funds for cancer patients and research. Relay For Life of Woodland Hills will be Saturday, April 20-Sunday April 21, 2012
at Pierce College.

Maggiano's Little Italy!
Address: 6100 Topanga Cyn Blvd.
RSVP REQUIRED by noon on Tuesday.
Walk-Ins Welcome, Add $10.
(818) 347-4737
Members $20 One Time Trial Guest $20.
There will be assigned seating.
**RSVP by Noon on Tuesday prior to our General Events to avoid $10 Walk-In charge.
An accurate "head count" ensures enough food & great service! Thank you.
Breakfast Menu (No Substitutions Please)
Assorted Muffins, Scrambled Eggs, Smoked Bacon & Fran's Potatoes.
Freshly Brewed Regular & Decaffeinated Coffee, Hot Tea and Assorted Fruit Juices will also be served.
WHY SHOULD I ATTEND THE BREAKFAST?
*You meet 125 business professionals vs. cold calling or knocking on doors and just hoping the phone rings.
*Your fellow member becomes your extended sales team – get to know them!
*Receiving a testimony from a member who has used your business is a commercial of credibility in front of your new customers
*You can follow up with your Hot Sheet
*Your promotional products can be displayed on our member informational table
*You have a chance to win member give~aways AND a FREE 2 minute commercial about your business!