Business Networking Breakfast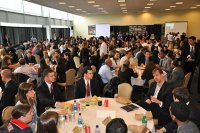 Wednesday, August 1st,
7:00 AM to 9:00 AM
Sponsor: RGEB Employee Benefits~
Barry Cohn
RGEB Employee Benefits is a health insurance agency. RGEB, Really Great Employee Benefits, has worked with companies and their employees for over 15 years and now works with almost 300 groups with 8,000 employees and over 1,000 individuals, families and seniors with a staff of 15. RGEB takes the confusion out of your health insurance decisions.
Woodland Hills Country Club
Address: 21150 Dumetz Road
RSVP REQUIRED by noon on Tuesday.
Walk-Ins Welcome, Add $10.
No Jeans please at Breakfast Venue.
(818) 347-4737
Members $20 One Time Trial Guest $20.
There will be assigned seating.
**RSVP by Noon on Tuesday prior to our General Events to avoid $10 Walk-In charge.
An accurate "head count" ensures enough food & great service! Thanks you.
WHY SHOULD I ATTEND THE BREAKFAST?
*You meet 150 business professionals vs. cold calling or knocking on doors and just hoping the phone rings.
*Your fellow member becomes your extended sales team – get to know them!
*Receiving a testimony from a member who has used your business is a commercial of credibility in front of your new customers
*You can follow up with your Hot Sheet
*Your promotional products can be displayed on our member informational table
*You have a chance to win member give~aways AND a FREE 2 minute commercial about your business!