Business Networking Breakfast

Sponsored By~



Logix~Walter Franklin
Logix Federal Credit Union (LFCU) remains one of the strongest financial institutions in the country, and the largest headquartered in the San Fernando Valley. In fact, Logix has reported positive income in every one of its seventy 76 years of existence. During the year, the credit union hosts a variety of seminars to help its members make the best decisions possible. Whether you need an auto or home loan, checking or savings account, Logix can provide you with the service you need. The Logix branch in Woodland Hills, located at 21520 Victory Blvd., is open 9 a.m. to 6 p.m. Monday through Friday and 9 a.m. to 2 p.m. Saturday for your financial needs.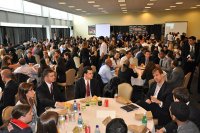 Wednesday, March 6th, 7AM - 9AM
Woodland Hills Country Club
Address: 21150 Dumetz Road
RSVP REQUIRED by noon on Tuesday.
Walk-Ins Welcome, Add $10.
No Jeans please at Breakfast Venue.
(818) 347-4737
Members $20 One Time Trial Guest $20.
There will be assigned seating.
**RSVP by Noon on Tuesday prior to our General Events to avoid $10 Walk-In charge.
An accurate "head count" ensures enough food & great service! Thank you.