---
Buy Tickets
Community Benefit Foundation
West Valley~Warner Center Chamber of Commerce
Community Benefit Foundation
"The mission of the Foundation is to benefit the West Valley Communities at large in the areas of education and beautification."
The West Valley Warner Center Chamber of Commerce Community Benefit Foundation, incorporated in 2011, is an extension of the West Valley~Warner Center Chamber of Commerce. This foundation was created to further the Chamber's mission. The Community Benefit Foundation has a 501C3 Charitable non-profit status that was created to strengthen our ability to raise funds. Since 2011, The Community Benefit Foundation has initiated events and directly contributed funds to support the community.
The Beautification Committee of the Community Benefit Foundation
identifies and addresses blight in the West Valley. We clean commercial and residential parkways and center dividers, cut weeds, remove litter, and beautify locations suffering from graffiti. "We understand that businesses flourish in communities that are clean and safe."
The Community Benefit Foundation is here to help when City services and private property owners cannot remedy blight problems.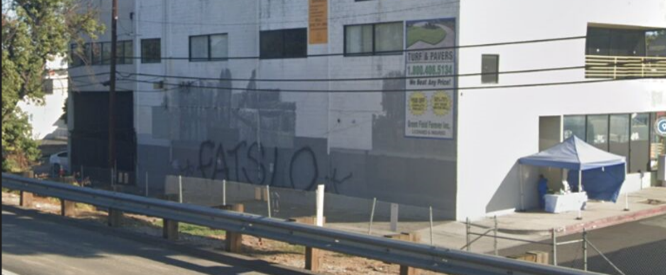 View from Southbound 101 Fwy at Jumilla, Woodland Hills.
Center divider at Ventura Blvd and Oakdale, Woodland Hills
We work with community members, including the Woodland Hills Warner Center, Reseda, Tarzana, and Canoga Park Neighborhood Councils, and members of St Bernardines, St Mels, Latter Day Saints, Louisville High School, El Camino High School, Taft, and Reseda High School.
WHWC Neighborhood Council @ Bowlero Vanalden Chalk Hill Residents St Mels LDS members @ Burbank and Louise
The Foundation has painted bridges over the Los Angeles River from Topanga Blvd. in the west to Balboa
and Burbank in the Sepulveda Basin on the East.
Van Alden Bridge @ the LA River Balboa Bridge @ the LA River Bike Path Tampa Bridge @ the LA River
The Foundation promotes the maintenance of the places that we improve.
We encourage you to identify places that need help. Send the address and nature of the situation you are concerned about. (email)
We depend on contributions from donors like you. The Foundation is a 501c-3 nonprofit making your donation deductible. Please take the time to consider donating to the Community Benefit Foundation/fund/Beautification.improving business districts within the WEst San Fernando Valley area through alliances with the City of Los Angeles, local homeowners groups, and other government entities. We have participated in and contribute to: Anti-graffiti projects, Clean-Up days, Reseda Holiday Lights, and many more community enhancement events
.
We have planted over 500 trees in the West Valley!
Your Beautification Committee organizes community clean ups, arranges tree giveaways with local Neighborhood Councils and many other beautification efforts.

Since 2013, the Community Choice Awards has awarded 27 businesses for aesthetic improvements, implementing sustainability and providing technological innovations to their tenants.
Contact: Sean McCarthy 818-389-1876
Donate below. Use Quantity Button to increase amount. Thank you.
These funds have targeted and underwritten specific events such as:
Earth Day, Tree Planting, Community Disaster Preparedness Fairs, Career and Job Expos, Education and Art Grants, Legislative Education such as
Candidate Forums
just to name a few. Nearly $70,000 has been given to youth organizations here in the West Valley.
Your Education Committee
of the Community Benefit Foundation has started several programs to assist youth in our West Valley Community. We know that money and donations can fulfill needs of the school that are essential to student development. We have heard from business members that one area in which they wish they could have a greater impact is education. The West Valley Adopt-A-School program bridges those two needs and creates lasting relationships and ardent goodwill within our local communities. West Valley
Adopt-A-School Program
facilitates the partnerships between West Valley businesses and schools for the purpose of awarding cash grants to the schools. Participation by schools is free and easy. Agreement to participate allows a local business to select and adopt a participating school and provide them with a cash grant. Adopted schools are expected to provide their business partners with some exposure to their school community as determined.
Annual
Career Days
with our Local High Schools have also been a great connection for our businesses and the future leaders.
Get Empowered. Get Employed
. is directed at youth entering the work force. The four areas we focus on are interview skills, resume writing, branding and social media behavior. We conduct workshops that include mock interviews and we offer to review their resumes as well. Many business professionals lend their time and expertise to these students.
The education continues with our
adults
. Our
Valley Regional Forum
is working hard to bring education on legislative issues, election candidates, and other Government Affairs Committee agenda items. We also offer workshops to our
adult
community ranging from lessons in
how to network to lessons in building your business with Social Media and more. Business Resource workshops and more. We also educate in the area of Disaster Preparedness and Conservation.
Contact: Phil Christie
View Details Page