---
Candy Cane Lane
West Valley-Warner Center Chamber of Commerce
Posted on 01/01/21
Celebrate the Holidays by Viewing Spectacular Holiday Light Displays
Candy Cane Lane is a group of homeowners at Lubao & Oxnard Streets in
Woodland Hills who collectively decide each year to put on an amazing holiday display
of lights and decorations.There is no contact information for Candy Cane Lane,
as it is an informal decision of homeowners. As a service to our community, here is the
information the West Valley~Warner Center Chamber of Commerce is able to provide.
Information: For 2022~ 6 PM - 10 PM Until Christmas. Drive through only.

It's located at the intersection of Lubao and Oxnard Streets (by Pierce Collage)
in Woodland Hills.
People drive slowly down the street with their headlights dimmed
so that everyone can enjoy the lights.

The closest exit is Winnetka, off of the 101 freeway.
**Residents ask that visitors drive by no later than 10pm on weeknights
and 11pm on weekends. Many residents turn off their lights after this
time to discourage viewing.**
Directions:
From the 101 freeway in the West part of the San Fernando Valley in Woodland Hills
exit at Winnetka Avenue.
Drive north on Winnetka Ave, when just across from Pierce Junior College turn right
on Oxnard Street. If there is a traffic jam try parking and walk.
Candy Cane Lane has been a tradition in Woodland Hills since 1952 and the residents
have tried to outdo each other with their light displays each year. Santa has been seen
posing for photos with children and some of Santa's elves have been seen roaming.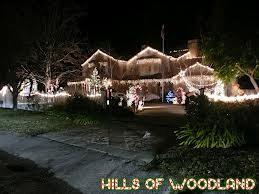 Candy Cane Lane Holiday Lights
Woodland Hills (Lubao Avenue and Oxnard Street) -An eight square-block area in
Woodland Hills isannually transformed into Candy Cane Lane with a celebration
of ligts, figures and artificial snow.