We Fix Leather, Vinyl. Plastic - Furniture, Auto, Clothing, Marine, Aircraft and more.

About FIBRENEW-WeFixLeather:
Dick Bublitz Marketing/Programs Chair:
FIBRENEW-WeFixLeather services businesses & residences in the West San Fernando, Simi, Conejo Valleys and surrounding areas. We joined Woodland Hills-Tarzana ChamberofCommerce in 2010 to promote FIBRENEW-WeFixLeather to the entire community serviced by the Chamber. Now, 9 years later, thanks to the progress we've made with our contacts with Chamber members, we've signed a 7-year renewal contract with FIBRENEW International.
Services:
We operate FIBERNEW WEST with our son, Rick, technician for cleaning, repairing, restoring, re-dyeing leather, plastic, vinyl furniture, automobile, clothing, boats, aircraft and other articles for both commercial & residential applications. Mobile to your location or at our shop. Free inspection and analysis of condition of article. Quote based on work necessary to restore to 'like-new' condition with 1 year guarantee. www.fibrenew.com/west Ph: Office 818-992-0366 or Rick, Technician 818-635-8887
Accomplishments:
Daily News Readers Choice Award for the 8th year.
2012 West Valley Warner Center Chamber of Commerce Member of the Year
2017 SMALL BUSINESS OF THE YEAR AWARD from West Valley Warner Center Chamber of Commerce
2018 WVWCCC Director of the Year
1st Place Age Div, SayNoToDrugs 5K 12/08/2013
1st Place Age Div, Canoga Park Memorial Day 5K 05/28/2013
1st Place Age Div. The Great Race 2014
1st Place Rose Bowl Half Marathon 5K
Ist Place Age Div. Ventura Harbor Half Marathon 04/01/2012A
1st Place Calabasas Classic 5K 11/13/11
Elected to Board of Directors, Kiwanis Club of Warner Center
1st Place in The Great Race of Agoura 5K Male 75+ Age Division.
1st Place in age division, 13.1 Los Angeles 1/2 Marathon, Venice

100% satisfaction with all FIBRENEW clients to date.

A feature article on our FIBRENEW business, 'Something Old Made Something New'. appears in Brentwood News online.com. Rick repaired an expensive leather purse belonging to the author. Due to its shabby condition, it had been relegated to a closet. When the refurbished purse was presented to the owner, she stated that it looked like new and she could resume taking it out in public. This feature story is the result of her satisfaction with Rick's craftsmanship. A link to the article is on our website - www.fibrenew.com/west.
Associations:
- West Valley Warner Center Chamber of Commerce, Board of Directors, Chair Marketing/Membership Committee
- Topanga Chamber
- Southwest Region Area Realtors, Associate Member
- U.S. Route 6 Tourist Association, California Executive Director
- Networking Plus
- Ventura County Sportfishing Club
- Valley Jazz Club
- The Blues Foundation, Nominator/Judge, Blues Music Awards
- West Coast Traditional Jass Club
- Los Angeles Jazz Society
- Pasadena Marathon Founders Club
- Southern California Blues Society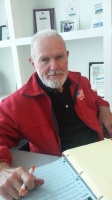 "Thanks to Fibrenew, (Rick) Richard Bublitz, (son of Dick Bublitz) fixed my favorite easy chair where the leather was cracking and pealing. Not only is as good as new now, he also fixed the broken cable that allows me to recline once again! GOOD WORK!"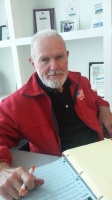 FYI, Rick Bublitz at Fibrenew did a wonderful job restoring our green leather loveseats today. Thank you for the lead.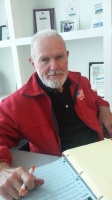 As a new member to Woodland Hills - Tarzana Chamber of Commerce, I want to introduce myself and our Fibrenew West business.

We have been residing in Woodland Hills since 1970 when I moved here from Chicago with Better Homes &
Gardens to start a new travel section for the magazine. I was originally hired by BH&G while living in St. Paul, MN, to start a new BH&G Book Division territory in Cincinnati, OH. I was subsequently promoted to Cleveland (really!) and then Chicago. I started my own business in 1980 representing magazine publishers, which we currently do on a reduced scale. After a long search for a business that would utilize my son, Rick's hands on ability to fix things, we have contracted with FIBRENEW for a West San Fernando Valley territory. Using proprietary products developed by FIBRENEW we fix leather, Plastic, Vinyl & Fabric damage on Automobile, Furniture, Boat, and Aircraft for both Residential and Commercial applications. We use environmentally friendly products. As we are a mobile business we can come to your location or work in our shop. We look forward to meeting you and being involved in Chamber activities. Dick Bublitz