About Pacific Heart, Lung & Blood Institute :
PHLBI is a 501(c)(3) research institute
Established in 2002
Modeled on the National Institutes of Health's structure
Divided into Extramural Research and Intramural Research:
"Medical research organization operating in conjunction with a hospital"
UCLA
VA

Vision: Pacific Meso Center (PMC) was established with the goal of becoming the most innovative research and treatment organization in the world for patients with malignant pleural mesothelioma (MPM).

Mission: The Pacific Meso Center's mission is to better serve a growing number of mesothelioma victims by supporting the first-of-its-kind in the nation research lab which provides laboratory-to-the-bedside research that improve mesothelioma victims' lives and longevity, particularly for those that approach malignant pleural mesothelioma (MPM) as a chronic, treatable disease:

Services:
We support 2 research laboratories, the Punch Worthington Lab at UCLA, and our brand new state-of-the-art lab on Santa Monica Blvd. Educational webinars and patient services.
Accomplishments:
Opened up a brand new state-of-the-art lab on Santa Monica Boulevard in Los Angeles.
We had several successful fundraising events-
Inaugural 5K Walk/Hike for Meso in Agoura Hills- we raised $67,000. Casino Night-raised $70,000.

Our 4rd International Symposium on Lung-Sparing Therapies for Malignant Pleural Mesothelioma- in conjunction with UCLA
offering CME credits. Experts in Lung-Sparing Therapies from all over the world meet.

In house video production studio set up for youtube educational video series and research updates

The Pacific Meso Center at the Pacific Heart, Lung & Blood Institute held its second annual "The Greatest Escape" motorcycle ride on Sunday, August 3rd. The event raised $88,021 for research. We made the 6 and 8 pm news on ABC. Check it out here: http://youtu.be/4JGTh1f1WDU
Associations:
Woodland Hills Tarzana Chamber of Commerce
UCLA
West Los Angeles Veterans' Association
Guidestar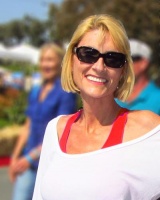 Our Annual 5k Walk/Hike for Meso is taking place on Sunday, October 12, 2014. We are raising funds and awareness for Malignant Pleural Mesothelioma. 100% of the funds we raise go to support our 2 research labs. We are also raising funds to open up a center of excellence for mesothelioma at the Los Angeles VA Hospital. 1/3 of the people who get mesothelioma are vets and need our help.

Sponsorship Opportunities are now available. Please email me if you are interested and I will email you the packet.
[email protected]