Theatre of Will presents Musical and Historical Theater all over the Los Angeles area.

About Theatre of Will:
Willard Simms is President and Artistic Director of Theatre of Will (www.theatreofwill.org), a non-profit theatre/education company based in Los Angeles, California., and dedicated to the principle that the performing arts play a vital role in child development. His hands on theater arts programs have been performed to over 200,000 Los Angeles students, sponsored by the Los Angeles Department of Cultural Affairs, L. A.ís Best After School Program, Enrichment Works, Department of Water and Power, Metropolitan Water District, City Council District 3, 5, 11,and 12, Brighton Collectibles, and the West Valley PALS among others. Mr. Simms also taught in the UCLA Writers program for many years, is an expert in history, and an accomplished journalist who has written a variety of pieces about the history of his own San Fernando Valley.



Services:
Musical theater performances and workshops, mural painting classes, educational STEAM programs with LAUSD, historical lectures and performances.
Accomplishments:
Selected to go to Bangalore, India by the Indian National Institute of Science and Bangalore Little Theatre to present performances of our play about Albert Einstein for the Centennial Celebration of the 100th anniversary of the publication of the General Theory of Relativity.
Associations:
Many...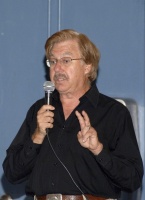 We begin our Musical Theater on the Green Saturday series on July 23rd at Warner Park at 7:30. If you like the music of Diane Schuur and saw her in her concert at Warner Park, come see her saxaphone player, Garner Thomas, perform with us on our opening night. He can play two saxaphones at the same time! Families welcome, come and have fun without Pokemon!!