---
2023 West Valley Disaster Preparedness Fair. Free Community Event! March 25, 2023
Councilmember Bob Blumenfield CD 3
Posted on 11/14/22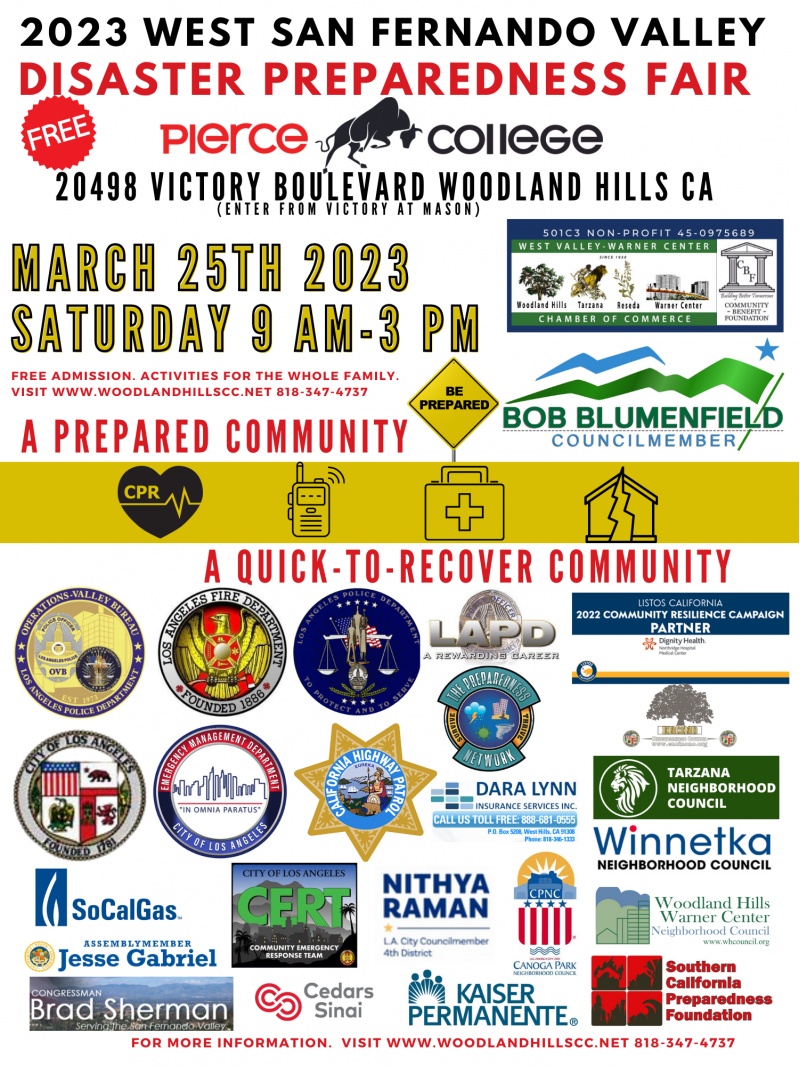 Free Community Event
2023 West San Fernando Valley
Disaster Preparedness Fair
March 25, 2023
Time: 9 AM-3 PM
Pierce College Woodland Hills
*Gather information and resources to best prepare for an emergency or disaster. Learn from community responders, organizations & providers.
The West Valley Warner Center Chamber of Commerce is producing the event. Made possible by the office of Councilmember Bob Blumenfield, LAPD Operations Valley Bureau, LAFD Valley Bureau, Sponsors, Exhibitors and amazing committee members!
Free Fun Family Event!
Expert Speakers with Demonstrations
Information Booths with Take Away Literature and Fun Booth Prizes
Fire and Police- Sheriff and CA Highway Patrol vehicles on display
LAPD Topanga Station and West Valley

​Vehicles

Fly Over

Swat

Bomb Squad

Mobile Command

Mounted Police

K9 Units

Recruitment

LAFD Battalion 17

Residential fires and residential fire safety.

Fire extinguisher demonstration from the stage.

Recruitment

CPR Demonstration MySafeLA

CERT
Cutting a Car!

Children Activities

Interacting with Firefighters and Police

Book Reading by Community Heroes

Coloring Books

First Responder Vehicles and Cool Demonstrations!

Cedars Sinai- Blood Mobile
Kaiser Permanente- Stop the Bleed
SoCal Gas-Meter shut off and more.
Meet the Event Sponsors
West Valley Warner Center Chamber of Commerce
Councilmember Bob Blumenfield
SoCal Gas
Dara Lynn Insurance Services
Northridge Hospital Foundation/ Dignity Health LISTOS California
Councilmember Nithya Raman

Meet the Production Supporters
Los Angeles Fire Deparment
Los Angeles Police Department Operations Valley Bureau
Meet the Media Supporters
The Preparedness TV Network
Valley News Group
Meet the Photographers
Richard Cassel
Cassel Photography and Documentation

Meet the Exhibitors!
American Red Cross
ARESLAX, Inc. Amateur Radio Emergency Service
Arson Watch
Assemblymember Jesse Gabriel
Blue Can Water/SOS Survival Products
California Highway Patrol, West Valley Area
Canoga Park Neighborhood Council
Cedars Sinai Medical Center Blood Mobile
City of Los Angeles Department of Animal Services
City of L. A. Emergency Management Department
Civil Air Patrol Hawker Squadron 128
Community Emergency Response Team-CERT
Congressman Brad Sherman
COPE Preparedness
Costco Woodland Hills
Councilmember Bob Blumenfield (committee
👏
)
Councilmember Nithya Raman
CPAB-

Community Police Advisory Board


Dara Lynn Insurance Services-Winnetka Chamber of Commerce
Debbie Soden-Coldwell Banker Realty
Department of Neighborhood Empowerment
Department of Recreation and Parks
Disability Disaster Access & Resources (DDAR)
Eagle Vision Outreach
Encino Neighborhood Council
Gaspar Insurance Services
GRID Alternatives Greater Los Angeles
Kaiser Permanente/Stop the Bleed
LA County Department of Animal Care and Control
LAFD CERT- Community Emergency Response Team (committee
👏
)
LAFD Los Angeles Fire Department (committee
👏
)
LAPD Operations Valley Bureau (committee
👏
)
LAPD Recruitment Divisions
LISTOS California and Northridge Hospital Foundation/Dignity Health (committee
👏
)
Los Angeles City Auxiliary Communications Service
Los Angeles County Department of Public Health
Los Angeles County Sheriff Department
Los Angeles World Airport Police
MYSAFE LA
MVP Law Group, A PC
Neighborhood Legal Services of Los Angeles County
Neighborhood Team Program
New York Life
Operation Gratitude
Pal Fire Protection, Inc.
Perci by Invicta Ready
Pierce College (committee
👏
)
Providence Cedars-Sinai Tarzana Medical Center
Q4 ACTIVE
Resource Conservation District of the Santa Monica Mountains / Ember House
Senator Caroline Menjivar
SoCal Gas
Southern California Preparedness Foundation (committee
👏👏
)
State Senator Henry Stern
T-Mobile (Wi-Fi Hot Spot Sponsor)
Tarzana Neighborhood Council (committee
👏
)
The Little Angels Project (committee
👏
)
The Preparedness Network (committee
👏
)
Troop 642 West Valley (committee
👏
)
U.S. Army Tarzana Career Center
U.S. Air Force 369th Recruiting Squadron
West Hills Health & Rehab Center
West Valley~Warner Center Chamber of Commerce
Disaster Preparedness Fair Event Producer


(exclusively serving Woodland Hills, Tarzana, Reseda and the entire Warne Center)
Winnetka Neighborhood Council (committee
👏
)
Woodland Hills Warner Center Neighborhood Council (committee
👏
)
Zoom Room Woodland Hills
Food Trucks-Vendors!
(Vegetarian Options Available)
AhhHuevo
Andrea's Catering Inc.
Cusi Peruvian Bite
Dough Spot
Kona Ice North Valley LA
LA Donut
Mikachi Hibachi
Download 2023 DPF Vendor Agreement March 25 2023.pdf
Download 2023 DPF NonProfitAgreement March 25 2023 .pdf