---
Walk of Hearts 2017
Posted on 05/21/17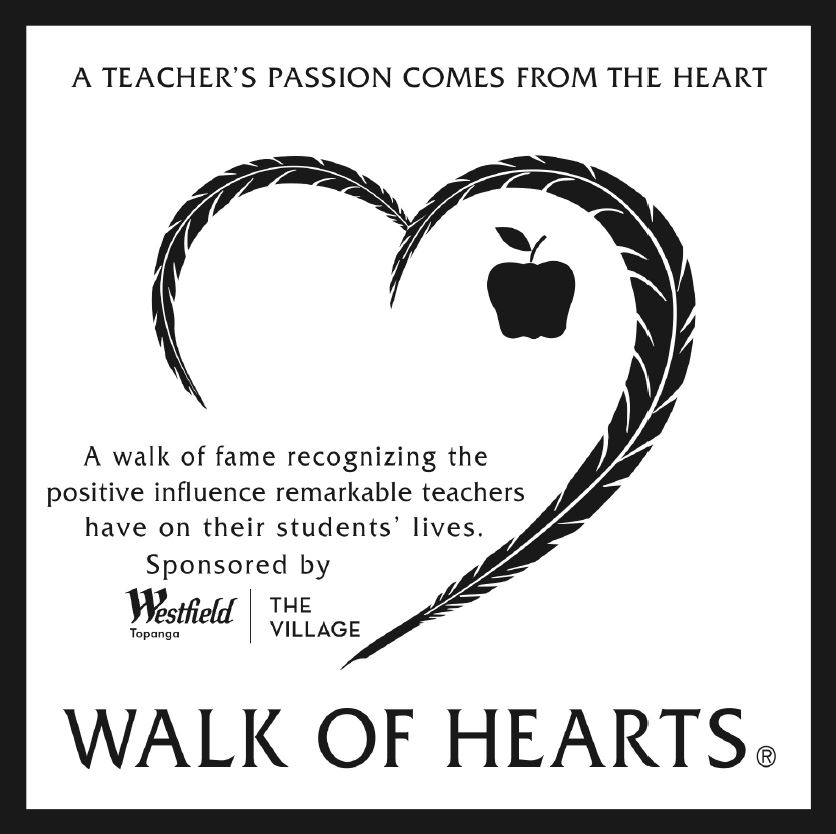 Walk of Hearts
Sunday, May 21st @ 10 AM
WALK OF HEARTS® Foundation Teacher Recognition Program
Please join us at a community celebration honoring all previous WALK OF HEARTS® recipients and inducting the 5 outstanding teachers and partner in education into their own Walk of Fame for Exceptional Educators.
WHERE – The Village at Westfield Topanga, 21800 Victory Blvd. In the Crate & Barrel Parking Lot next to Costco, entrance on Victory Blvd.
Following the celebration, please join us for a reception and celebrate exceptional educators that change the lives of their students every day.
Please RSVP by registering on our Eventbrite page:
2017walkofhearts.eventbrite.com
Founded in 2003, the WALK OF HEARTS® Foundation Teacher Recognition Program is a volunteer based non-profit organization dedicated to promoting the value of education by recognizing exceptional teachers in Los Angeles County.
Selected teachers are honored with a bronze plaque embedded in the sidewalk. In 2014, the 50th teacher was honored in the original Walk of Fame for Exceptional Educators located in the All America City of Canoga Park.
2017 marks the 13th year of teacher recognition and a partnership for the WALK OF HEARTS® Foundation with The Village at Westfield Topanga.
With this sponsorship, remarkable teachers will be honored in annual induction ceremonies in the coming years. The next celebration, honoring 4 outstanding teachers and a partner in education, is scheduled for May 21, 2017.
The 2017 WALK OF HEARTS® inductees are:
Renee Cofield, The Academy for Enriched Sciences
Carol Hajdu, Miller Career and Transition Center
Betty B. Monello, Pinecrest Schools Woodland Hills – Partner in Education
Lisa Ring, El Camino Real Charter High School
Diedra Shumate, Porter Ranch Community School & Nobel Middle School
Dr. Conrad Ulpindo, Los Angeles Unified School District
Eileen Capinha-Viadero & Kathy West, Taft High School
Who is a WALK OF HEARTS® Teacher?
The WALK OF HEARTS® Foundation recognizes exceptional educators for their commitment, innovation, and positive influence on their students' lives. The WALK OF HEARTS® Foundation is open to all who teach, or have taught, within Los Angeles County, both in public and private schools.
Educators are selected via nominations from their students and parents, school staff and the community submitted on the website, www.walkofhearts.com.
The selection committee looks for teachers who have shown the passion and dedication that changes the lives of students.
The ideal nominee is a teacher who is motivating, stimulating, and has that unique ability to inspire and perhaps - with a word or two of encouragement – change a life. This individual creates a positive, pleasant and productive learning environment while treating their students with respect.
A WALK OF HEARTS® Foundation teacher has the respect and admiration of their students, parents, colleagues, and the community.
The vision of the WALK OF HEARTS® Foundation is put into words by Founder Joe Andrews.
"There is a walk of fame for actors, actresses, producers, and directors, yet before there was a superstar actor or actress, there was always a teacher encouraging them."

,