---
Community Choice Award October 16th
West Valley ~ Warner Center Chamber of Commerce
Posted on 01/01/18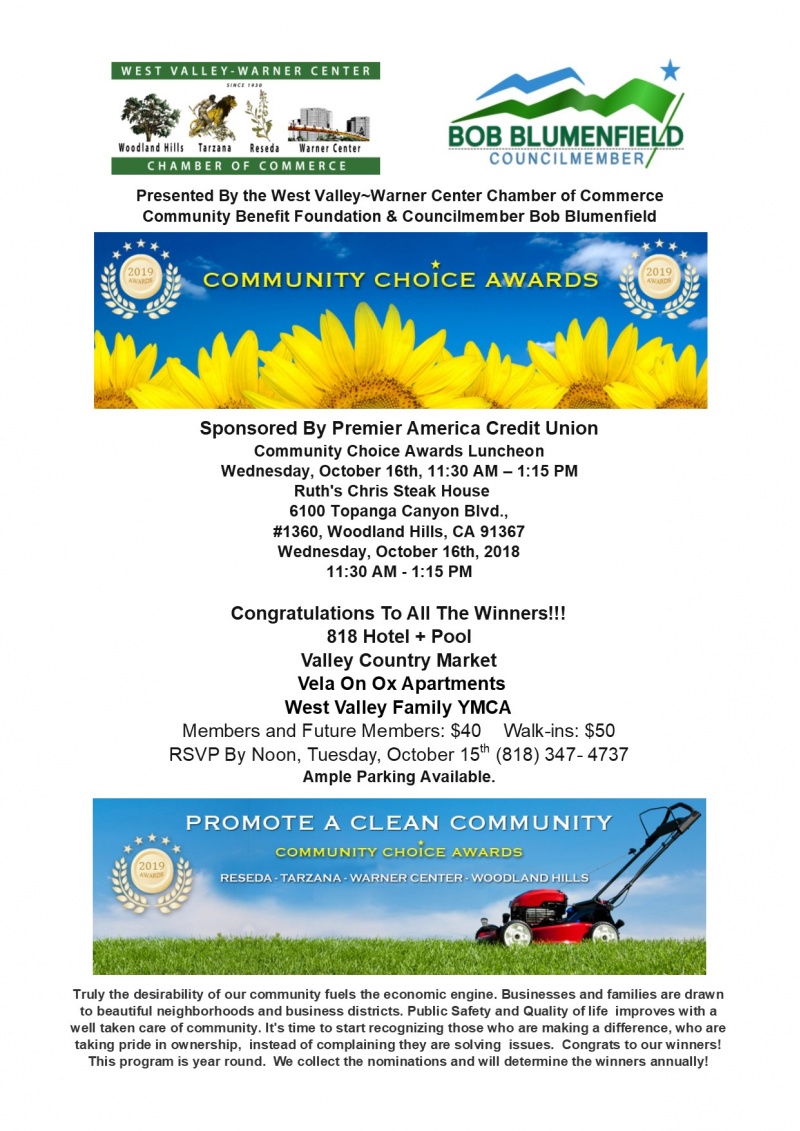 October 16th, 2019 Community Choice Awards Luncheon
Presented By Councilman Bob Blumenfield Council District 3 and
The West Valley~Warner Center
Community Benefit Foundation

Sponsored By: Premier America Credit Union




Community Choice Awards Luncheon
Wednesday, October 16th, 11:30 AM – 1:15 PM
Ruth's Chris Steak House
6100 Topanga Canyon Blvd., #1360, Woodland Hills, CA 91367
Members and Guests: $40 Walk-ins: $50
Pre-pay to Secure Your Spot By Noon, Tuesday, October 15th.
Or contact the Chamber Office~818-347-4737
Networking from 11:30 – Noon. Program Starts at Noon.

There is still tme to vote!
The West Valley ~ Warner Center Chamber of Commerce is recognizing properties that have aesthetically, sustainably, or technologically improved their properties! Business properties and Multi-family properties in Reseda, Tarzana and Woodland Hills/Warner Center are eligible to be nominated. We take nominations 24/7 through our website and everyone in the community can vote regardless of membership.

The following categories will be considered in selecting the finalists:

Commercial businesses including office, retail, and industrial properties.
Multi-family residential properties including condos and apartment properties

The elements to be considered: We evaluate each entry based on aesthetic and operational features including: landscaping, cleanliness, signage, accessibility, safety conditions and technological innovations.

The properties receiving the greatest number of nominations will be contacted and nominations will be evaluated by the committee.

The winners will be announced at a Fall Chamber Luncheon. The award will include certificates, free advertising on the Chamber's web page and on promotional materials.
Anyone can nominate a property in either category. Nominations must be submitted to the West Valley ~ Warner Center Chamber of Commerce at: www.woodlandhillscc.net/westvalleybizpride or call the chamber office at 818-347-4737.

There is still tme to vote!
VOTE HERE