---
Labor Day Weekend Countdown A Live Stream Concert Event: "THE BEATLES TOP 50 All-Time Favorite SONGS" Performed by The Tribe
Watch from the comfort and safety of your own home
Posted on 09/02/20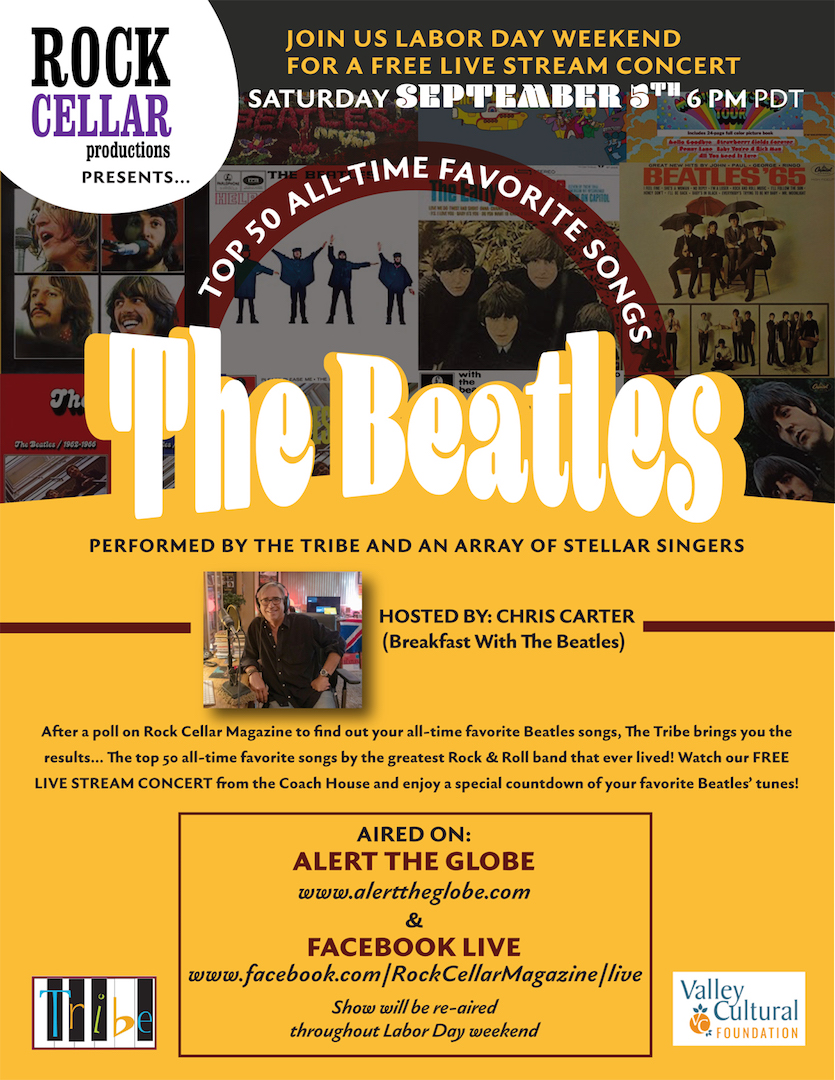 Our Friends, The Tribe Band, will be performing a live stream Beatles concert this Saturday and we wanted to help get word out. The Tribe is the collective that performs all-star benefit concerts for the Get Together Foundation twice a year. In light of our current situation, our fundraising events have been modified. This show is just for fun, but watch for an upcoming online benefit concert event later in the year.
This weekend:
Labor Day Weekend Countdown:
"THE BEATLES TOP 50 All-Time Favorite SONGS"
Saturday, September 5th, 6:00PM PDT
Hosted by: Chris Carter ("Breakfast With The Beatles")
The Beatles. Their music is timeless, their influence far-reaching and extends into nearly every aspect of culture. What better way to celebrate the greatest Rock & Roll band that ever lived than with an end of the summer all-time favorite countdown!
The Tribe will perform a FREE live streamed concert event counting down the top 50 all-time favorite Beatles songs! The Tribe's core band will be joined by the vocal talents of an array of stellar singers, many who are featured emerging artists selected by the Valley Cultural Foundation (www.valleycultural.org).
The event will be live streamed by Alert the Globe from the Coach House in San Juan Capistrano. Watch it on (www.alerttheglobe.com) or on Facebook Live on Rock Cellar Magazine's pagewww.facebook.com/RockCellarMagazine/live.
For more information on the Tribe, please visit: www.thetribeband.com
Note: If you miss the live stream, please catch the archive.
https://youtu.be/w02qBpg5bgk