---
Justice Jog Virtual 5k/10k Challenge
September 1 - 25, 2021
Posted on 08/13/21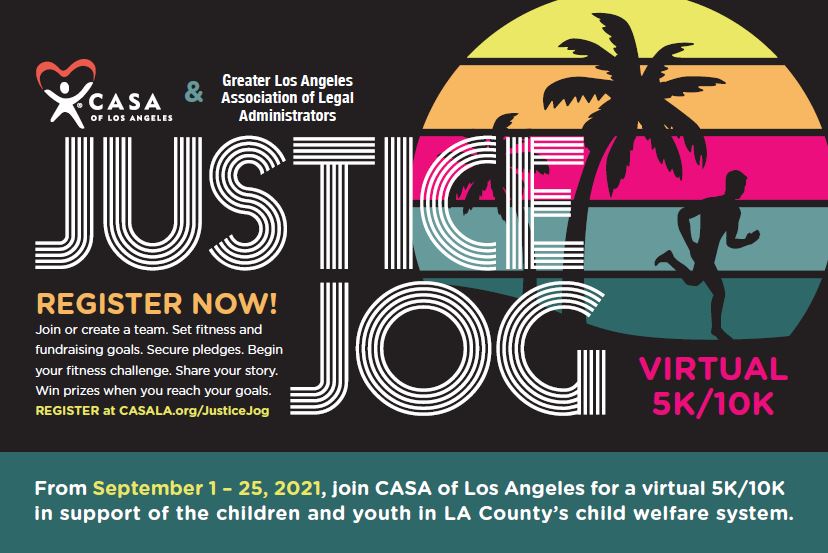 About Justice Jog
CASA of Los Angeles (CASA/LA) and the Greater Los Angeles Chapter of the Association of Legal Administrators (GLA ALA) have enjoyed over 9 years of partnership and raised over $600,000 through the Justice Jog 5K/10K, with hundreds of runners in support of children and families in Los Angeles County's foster care and juvenile justice systems.
If you would like to join this unique and impactful challenge, please:
Register to participate here. Your registration includes a bib, t-shirt and finisher medal. In order to receive a runner's kit you must register through this form.
Create a fundraising page. After registering you will be asked to create a fundraising page to increase your impact for the children we serve.
Spread the word! Invite your network to support your fitness challenge or join you in participating in this special event.
How it Works
Run, walk, hike, bike, climb, treadmill (or any exercise you can measure) to support the children and youth in LA County's foster care system.
Register by joining an existing team, creating a team of colleagues, friends and/or family or register as an individual.
Receive a runner's kit in the mail. The kit includes a bib, t-shirt and finisher medal!
Set your goals: miles completed, best times, endurance.
Secure pledges from supporters who believe in your ability to complete your goals by becoming a fundraiser.
Run, walk, hike, bike, climb or treadmill a 5K or 10K between September 1 – September 25, 2021.
Track of your miles, times or accomplishments and submit your results on our website.
Compare your final race time to our other runners on our finisher leaderboard.
Win prizes for the best running time, most money raised, best outfit and most unique route!
Facebook & Twitter @CASAofLA | Instagram @CASA.LA
#JusticeJog2021 #CASAofLA #GLAALA
About CASA of Los Angeles
CASA of Los Angeles (CASA/LA) is a non-profit organization that recruits, trains, and supports a community of caring individuals who show up and advocate for children and families in LA County's child welfare and juvenile justice systems. CASAs are involved in key issues in the lives of the children we work with, encouraging them to grow to their fullest potential, advocating in court and the community for the support and services that ALL children deserve: education, physical and mental health and a safe and stable home. To learn more about CASA/LA please visit www.casala.org.