About We Care For Humanity (WCH):
Founded in 2011, We Care for Humanity is a 501(c)(3) non-profit organization that works to improve relations across borders through the promotion of health, wellness, and the arts.
OUR MISSION
Our mission is to promote the development of healthy relations between nations as foundation of freedom, justice and peace of the world by shaping humanity through health, fitness, wellness, beauty, culture and arts.
OUR VISION
Our vision is to fill the world we live in with humanitarians.
Services:
We Care for Humanity provides free educational programs to those who are underprivileged by utilizing live streaming technology. These programs include information on financial literacy, beauty and empowerment, fitness and wellness, and health and nutrition. BPI Express Remittance, Notary Public services(traveling and in office, speaking engagements, and more.

Accomplishments:
Held our first Concert to Feed the Homeless at the Hope of the Valley Mission, honored Humanitarians from all over the world at the Arts Academy in North Hollywood,donated school supplies and award Certificates to local schools in need of school supplies, collected donations of clothes, shoes, household items & more to Hope of the Valley, served children, families and seniors at various places during Thanksgiving, held health and wellness seminars at the WCH office,holiday caroling to local business and homes to raise funds for the typhoon victims in the PI as well as just held a Rock Humanitarian at the Corbin Bowl to raise funds for the typhoon victims in the Philippine Islands. Promoting being a Leader and Anti Bully Campaign in local Elementary Schools.
Associations:
Team Empower & Partners USA
Hope of the Valley Rescue Mission
Bizfed
United Chamber of Commerce
PILAC
Cotifa

Smartphone Donation App now in Woodland Hills
Daily Donor is now active in Woodland Hills and surrounding areas. Daily Donor encourages customers to shop and dine at local establishments willing to donate a percentage of Daily Donor members spending at the establishment to that members favorite charity. This is done via a simple smartphone app. www.dailydonor.com

We are looking to partner with some charities and causes in the Woodland Hills area, we charge no up front costs.

For more info please contact.

Frank Volpe
CMO
Daily Donor Inc.
Direct Ph: 310 4893245
e: [email protected]
www.dailydonor.com
www.facebook.com/dailydonor
www.twitter.com/dailydonor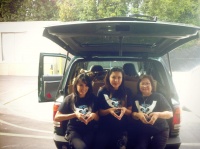 Invitation to stop by our office and see all the wonderful items we have on display; women's accessories, children's brand new shirts, sweatshirts, shorts, skirts and pants, household goods, pictures, stove,oven liners and much more. We are expanding our services and need to unload a lot of these items for a small donation. We are a 501(c)3 organization and therefore, your donation is tax deductible.

Ribbon Cutting with Red Carpet will be scheduled in June.

Please contact our Secretary, Mercy Alpert, at (818)388-6961 for more information.

Thank you for your support so we can make a difference!